Hot melt glue sticks are a popular choice when it comes to bonding various materials. It is widely used in industries such as packaging, woodworking, and even for DIY projects. Eva hot melt glue rubber sticks, in particular, are known for their exceptional strength and durability.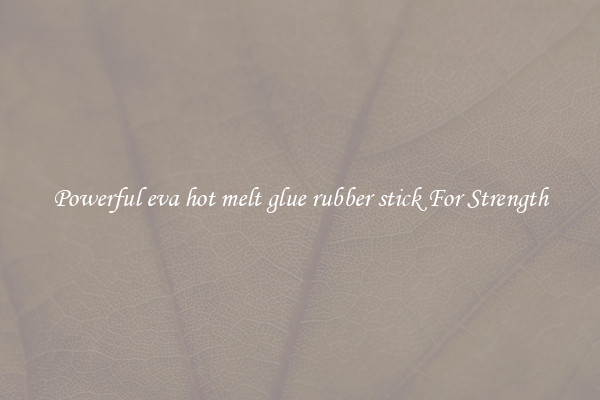 Eva, or Ethylene Vinyl Acetate, is a type of polymer that exhibits excellent adhesive properties. When in the form of a hot melt glue stick, it is usually applied using a glue gun. The glue stick is melted inside the gun and then dispensed onto the desired surface.
One of the key reasons why Eva hot melt glue rubber sticks are admired for their strength is their high bonding capacity. They can effectively bond different materials, including wood, plastic, fabric, and even metal. This makes them versatile and suitable for a wide range of applications.
Moreover, Eva hot melt glue rubber sticks form strong bonds quickly, which is ideal for assembly line production. When the glue is dispensed onto the surface, it has a relatively short working time. This means that it sets and hardens rapidly, allowing for efficient and speedy production processes.
Another factor that contributes to the strength of Eva hot melt glue rubber sticks is their resistance to moisture and temperature fluctuations. Once the glue has set, it forms a waterproof and heat-resistant bond. This makes it suitable for both indoor and outdoor use. Whether it's for bonding materials in a humid environment or for withstanding extreme weather conditions, this type of glue has got you covered.
Furthermore, Eva hot melt glue rubber sticks have excellent flexibility, making them resistant to cracking and breaking. This is important, especially when bonding materials that may undergo stress or movement. The flexibility of the glue allows it to absorb shocks and vibrations, preventing the bond from weakening or breaking.
Despite their incredible strength, Eva hot melt glue rubber sticks are relatively easy to use. They do not require any mixing or complicated preparation. Simply insert the stick into the glue gun, wait for it to melt, and carefully apply it to the surface that needs bonding. Within seconds, a strong and durable bond is achieved.
In conclusion, Eva hot melt glue rubber sticks are a powerful adhesive option that offers exceptional strength. Their high bonding capacity, quick setting time, resistance to moisture and temperature fluctuations, flexibility, and ease of use contribute to their impressive strength. Whether you're involved in industrial production or engaging in a DIY project, consider using these powerful glue sticks for your bonding needs.